Meet Raneem El Welily – the first ever Egyptian Women's World #1
Born in Alexandria, but now based out of the storied Wadi Degla club in Cairo, Raneem El Welily is already a legend in Egyptian squash and on the World Tour. Currently ranked #2 in the world, El Welily was the first Egyptian woman to achieve the #1 ranking in 2015, and is the current reigning world champion.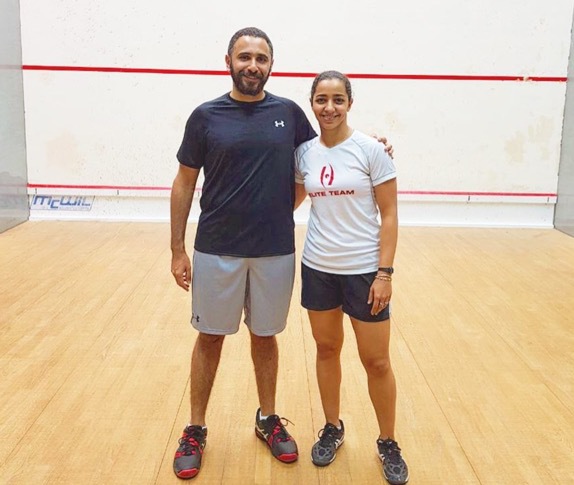 Junior Career
Starting her squash career at the tender age of 6, El Welily first represented Egypt on the international stage at the World Juniors at only 12 years old. She went on to later capture 2 world junior titles in 2005 and 2007.
Tournament Success
In recent years, El Welily has been one of the most successful players on the women's tour. She is a 3 time Women's World Team champion with Egypt and has captured 14 titles on the World Tour including finally capturing the World Title in the 2017 World Open.
Playing Style
El Welily, as you might expect, combines outstanding racquet skills and attacking squash with excellent strength and fitness. Recently the ESC hosted one of her main coaches Haitham Effat, who coached a five day clinic at the Edmonton Squash Club. She relies on her trusty Harrow Vapour racquet to provide the accuracy and power that are her trademarks – if we're lucky she may be bringing one for a lucky audience member this weekend ;).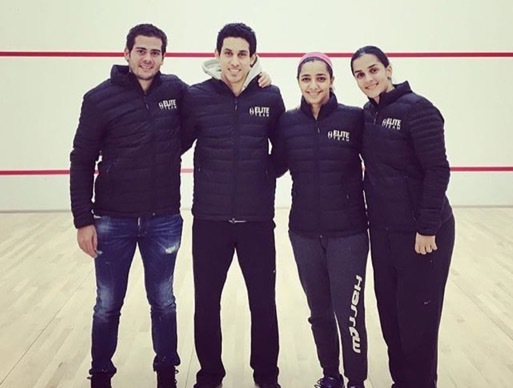 Personal Life
In her spare time, El Welily is a woman of many talents including expert jigsaw-puzzler and musician. Her husband is no stranger to squash either – Tarek Momen is one of the fastest players in the game today and is currently ranked #6 in the world.
There are too many incredible videos of Raneem's play on court to count, including a prime-time feature on ESPN Sportscenter last year. Here are a few to get you started:
A monster of a match against the resurgent Joelle King from New Zealand in 2017
Highlights from her World Championship victory against previous ESC guest Nour El Sherbini
A classic heartbreaker against Nicol David just 1-year before finally taking the World #1 ranking
A very Raneem-ish textbook behind-the-back winner
A technical analysis of her backhand drop from the back of the court
https://www.youtube.com/watch?v=Tagw2sVcKOE
A TedX talk (Arabic Language)
Social
You can follow Raneem El Welily on:
Instagram:
https://www.instagram.com/p/BfwPMILB5W-/
Twitter:
Excited to take part in this upcoming exhibition in one of my favorite destinations (Canada 🇨🇦), taking place in Edmonton squash club on the 16th & 17th of March. Hoping to meet all Canadian squash fans 🤘 pic.twitter.com/RBLiloOW12

— Raneem El Welily (@RaneemElWelily) March 5, 2018
Facebook:
https://www.facebook.com/Raneemelwelily/photos/a.336690769693314.92119.308241922538199/1977648815597493/?type=3&theater
We are looking forward to seeing Raneem here in Edmonton on March 16 & 17. For more information, please visit: https://edmontonsquashclub.ca/womens-exhibition-tournament-2018-el-welily-lust-hany-and-naughton/