The Edmonton Squash Club is a not-for-profit society which was formed to counter recent squash club closures in Edmonton. Our mission is primarily to increase the squash court count in Edmonton and to provide a facility where squash players interests come first.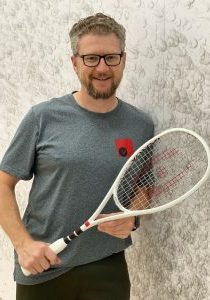 Jeff Williams
Jeff Williams is the Head Squash Professional for the Edmonton Squash Club. Jeff has played the game of squash since he was 9 years old at the Glencoe Club in Calgary. What started as an after-school activity quickly grew into a lifelong passion and a career that has spanned the last 20 years. Jeff's early success in squash includes winning a gold medal in the 1992 Alberta Winter Games with his team from Calgary.
Upon graduation from high school, Jeff continued to pursue his passion for squash by obtaining certification as a squash professional and also obtained a Sports Administration Diploma from Mount Royal College in Calgary. He is currently NCCP Level 3 certified and is working towards Level 4. In 1998 Jeff moved to Edmonton to become the Head Squash Professional at the Harley Club. He remained in that position until 2001 when he moved to the Royal Glenora Club as Associate Squash Professional under Ian Paton. He became Head Squash professional at the RGC in 2008 and continued in that role until 2013. In the last few years Jeff has maintained a busy coaching schedule at the Riverbend Athletic Club while staying at home during the day with his two children Gabriel and Amelie.
Jeff has always been passionate about bringing new players into the sport while also focusing on helping players of all calibres reach the next level. Growing junior squash at each club he has coached and it's always been a focus for Jeff. Over the last 18 years, this has helped produce some of Edmonton's top junior athletes who have competed in National and International competitions. Over the last two decades, Jeff has been fortunate to coach a sport and game he loves dearly and looks forward to continuing to grow the Edmonton squash community through the Edmonton Squash Club.
Jeff lives in Edmonton and is raising two squash enthusiasts of his own, Gabriel and Amelie.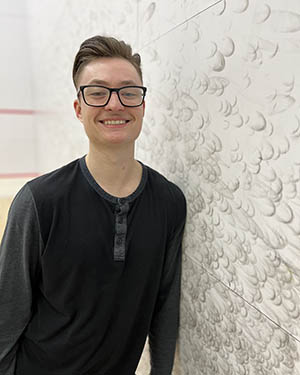 Tyler Walsh
My name is Tyler Walsh, I am 23 years old. I went to school at NAIT where I got my BBA with a focus in Management. Along with balancing my studies, I also had a scholarship to play on the badminton team, in which I won Provincials once and finished 4th at nationals twice. I really love the culture of individual racket sports and am looking forward to transitioning over to squash. In my spare time, I love to watch sports or hang out with friends. I am an avid hockey fan and my favourite teams are the Oilers (obviously) and the Carolina Hurricanes.  
My parents have owned and operated a dog daycare called Waggytails for the past 10 years. It was there that I learned firsthand the qualities and importance of organization, punctuality and communication. I look forward to implementing all I have learned there to take this club to the next level, and to go above and beyond to provide the best experience possible for everyone that steps foot in this club"