Club News
2017 Canadian National Masters Team Championships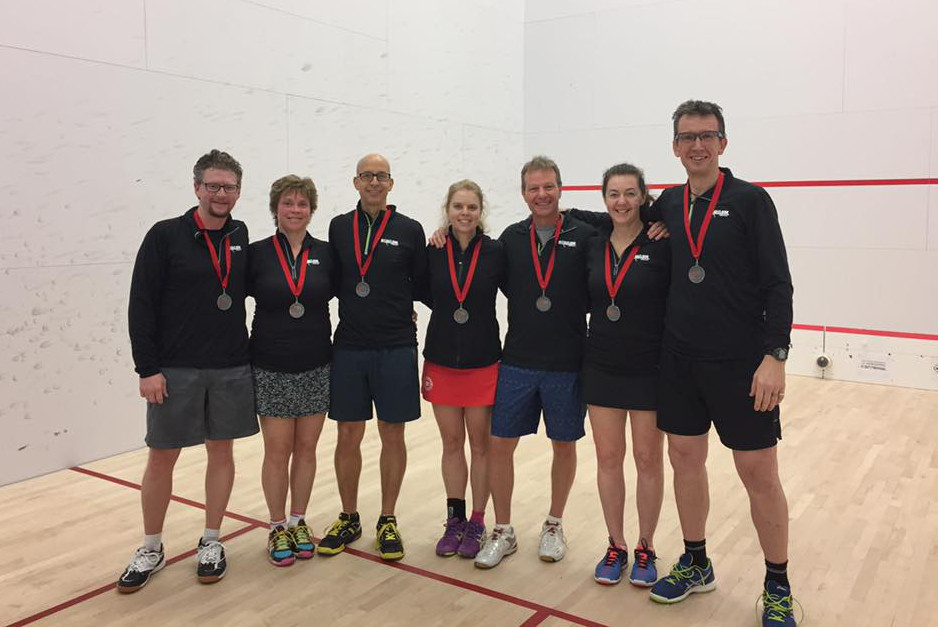 The Canadian Masters Team Championships took place at the Edmonton Squash Club in early January. As the hosting province we had 2 Albertan teams participating. The other provinces that competed were BC, Saskatchewan, Manitoba, Ontario, Quebec & New Brunswick. Congrats to Team Ontario for winning the Championship in a tight final against Team Alberta 1. Team Alberta 2 finished a strong 5th place.
Thank you to Julie Multamaki, John de Vries, Caroline de Vries, all the referees & volunteers that helped make this weekend such a great success.
On a personal note, I've been playing squash since I was 9 years old and this was my first opportunity to represent Alberta.
Thank you to Squash Canada for letting a brand new club host a National Championship and thanks to Squash Alberta for giving me and my team the opportunity to compete. It was an amazing experience on so many levels.
Omar Meguid Clinic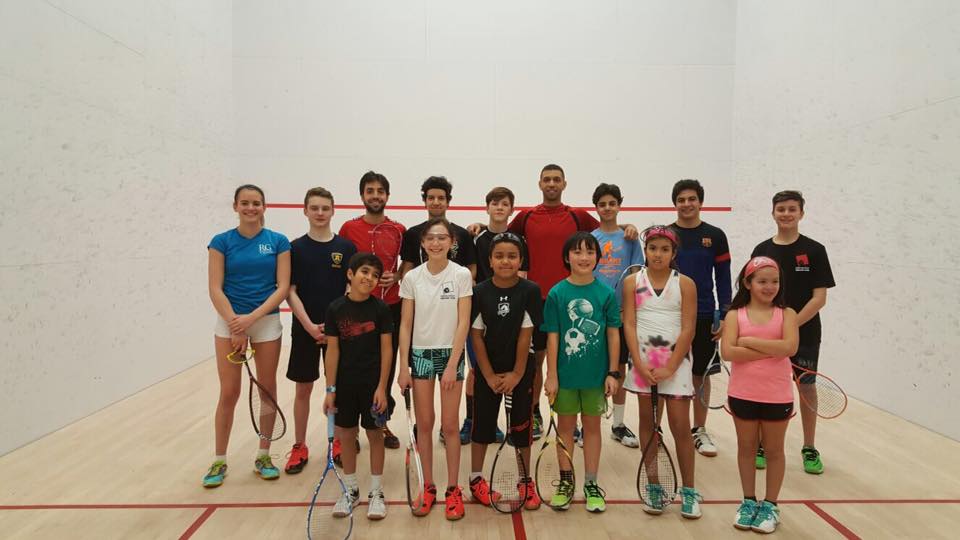 World #29 Omar Meguid (who also moonlights as a dentist during the offseason in Egypt) oversaw our largest clinic to date. Omar proved to be a tough but knowledgeable taskmaster, and we hope to have him coach at another clinic here again soon.
24th Annual Women's Weekend Squash Event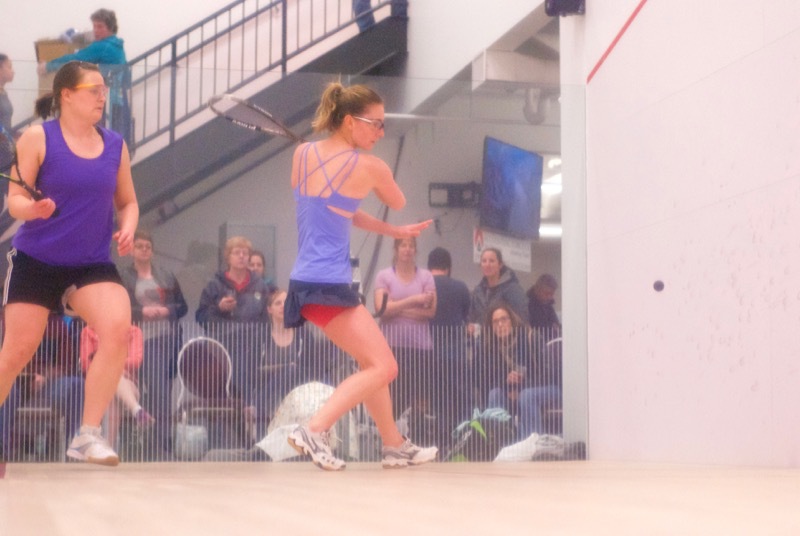 Over 100 women from all over Western Canada came to compete at the ESC during the February 2nd-4th weekend! This weekend was a fantastic celebration of Women in sport and it is a full weekend of festivities for all of the participants.
Congratulations to Julie Multamaki, Julia Smith, the organizing committee and all of the volunteers that helped make the weekend a huge success!
Congratulations to the division 1 champion Kensy Balch, and all the other winners of the various singles and doubles events. For full results visit: http://www.r2sports.com/tourney/home.asp?TID=20114
ESC Members – Guest passes and referral program
Thank you for your outstanding support during our first year in existence. It's fantastic to see so many familiar faces at our squash facility and I am thrilled that so many of the Edmonton squash community have chosen to make the ESC their home.
While I love seeing old friends, it's crucial that we attract new players to continue to grow the game. In an effort to make it easier for people to try the club out, we are pleased to announce that every member now has two free guest passes in their club account. There are no restrictions on them, but we hope that you might consider bringing someone who is looking for a new competitive outlet or fun fitness option.
We are also now rewarding members for any referrals that sign up for a monthly membership of any type with a credit in your club account. If you refer a friend that becomes a Basic member you will receive a $25 credit to your account, while if you refer a friend that becomes a Premium member you will receive a $50 credit to your account. You can use that towards anything you want – your monthly dues, food, drinks, pro-shop merchandise or lessons.
Yoga instruction for squash players
Many members have asked us about the best way to increase their flexibility, core strength and mental toughness on the court. One of the best ways is to practice Yoga. Squash legend Peter Nicol has written about this on SquashSkills: https://squashskills.com/blog/2014_12/peter-on-yoga-squash-121/.
We plan to run two 6-week Yoga classes from February 21st – March 28th on Tuesday mornings from 10AM- 12PM on the doubles court(that tends to be a quieter time at the club). The cost is $15/hour class for non-members and $7.50/hour class for members. There will be a couple staff on-hand to entertain your children on one of the singles squash courts free-of-charge. One class will focus on flow-yoga which helps with strength and fitness, and the other one will be Yin yoga which is good for flexibility and deep stretching.
For more information about our instructor Jane Marshall and the program, please visit edmontonsquashclub.ca/yoga
Upcoming Events
Gawad-Gaultier Exhibition
We are proud to be hosting an exhibition match between current World #2 and defending world champion Karim Gawad and current World #3, 2015 World Champion and former world #1 Greg Gaultier this Saturday. The evening will also include matches with top local juniors, several ticket holders against Gawad and Gaultier, and a squash research talk by Dr. Nadr Jomha. (stuff about food availability).
Gawad and Gaultier have a lot of recent match history, splitting the last two major PSA titles in Sweden and New York city, as well as a $50k "Fight" night in Houston. We're looking forward to seeing who comes out on top this time around!
The Alberta Mixed Doubles Provincial Championships
The Alberta Mixed Doubles Provincial Championships are taking place this weekend at the ESC. We have 4 Open teams and 8 Mixed B teams competing over the weekend! Make sure you come down to cheer on many of our ESC members as they compete!
To view the results as they happen, please visit: http://www.r2sports.com/tourney/home.asp?TID=20116
Box League
Congratulations to our January Box League winners: Box 1 – Jeff Williams Box 2 – Chris Cullingham Box 3 – Corey Bartlett , Box 4 – Doug Popowich , Box 5 – Mark Napora, Box 6 – Cody Hladki, Box 7- Calvin Carlson and Box 8- Gordon. All winners have $20 credited to their club account. For the month of February we have 9 Boxes and 49 participants. To sign up for the March Box League, contact the front desk.
---
Squash Links
Using visualization to improve your squash tactics
https://scienceofcoachingsquash.wordpress.com/2017/02/01/visualizing-squash-tactics/
Trading accuracy for speed – a pros and cons analysis
http://www.serioussquash.com/2017/02/the-speed-accuracy-tradeoff.html
The World Squash Federation updated the court specs for their Championship sanctioned courts
http://www.worldsquash.org/ws/news/30707
Retro "GQ" photos of Willstrop, Nicols, White and Beachill
http://framscorner.tumblr.com/post/156540509535/way-back-when-james-peter-lee-whitey-shabs
Life of a Norwegian on the PSA tour. Some stories may be exaggerated.
https://killingbergsquash.blogspot.ca/2017/01/painfully-embarrassing-personal.html
Some fitness training advice from Squash Skills (cliffs notes – try to do 70% of it on-court) https://squashskills.com/blog/-/fitness-training-specificity-for-squash-players-190/