Happy New Year Everyone!
2017 is starting out with a bang, with a full slate of events at the club over the next month.
Club News
Upcoming Events
Canadian Masters Team Championships
This is a big week for the ESC as we are hosting the Canadian Masters Team Championships starting at 11:15am on Friday! The event will use all 4 courts starting on Friday @ 11:15am through to Sunday @ 2:15pm. Courts will be available Sunday @ 2:15pm. There will be no Friday Drop-in or Sunday Junior Programs due to the event.
Shuttle Drivers Needed!
We are still looking for a few more volunteers to assist with driving/shuttle service to and from the DoubleTree by Hilton to the ESC. The DoubleTree by Hilton used to be called the Mayfield Inn so it is very close to our Club. This helps the players get to and from the hotel during play. The shifts are only 3 hours and it makes a huge difference. Any help would be appreciated.
Court Cleaning – Wednesday @ 9:30AM
We are cleaning the courts this coming Wednesday starting at 9:30am. With a good number of people it only takes 2 hours to clean all of the courts. So please let me know if you're available!
Teams of 7 players (4 Men & 3 Women) are coming from all over Canada. Here are the seedings of the 8 teams competing:
Ontario
Alberta A
Manitoba
British Columbia
Quebec
Saskatchewan
Alberta B
New Brunswick
Come cheer on our two Alberta teams competing this weekend:
ALBERTA A
Pete Goodings
Jeff Williams
Clyde Dickie
John de Vries
Sara McNeill
Kathy Conquergood
Julia Smith
ALBERTA B
Todds Sigfstead
Ian Buchanan
Kurt Kennedy
Jack Hoogstraten
Lisa Henderson
Anna Pentland
Gina Schille
Everyone is encouraged to come and watch our Alberta teams compete throughout the weekend! To follow the results online go to http://squash.ca/en/events/2017-canadian-masters-team-championship
Omar Meguid clinic
Omar Meguid (World #29) will be at the ESC to teach 3 clinics targeted at juniors, men and women players January 19-22. The focus will be on aspects of warming-up, improving your mental game and advanced techniques and tactics. For further information please visit https://edmontonsquashclub.ca/event/squash-camp-omar-meguid/. Please contact the front desk for further information.
Women's weekend
The Edmonton Women's Weekend is coming up February 2-5. This is always a top notch event. Registration is open now https://www.r2sports.com/tourney/login.asp?TID=20114
Gawad-Gaultier Exhibition
The Edmonton Squash Club is pleased to announce that we will be hosting the defending world champion and current world #2 Karim Abdul Gawad for and exhibition for former world #1 and current world #3 Greg Gaultier! Details will be coming soon. If you are interested in being featured as an event sponsor then please contact Jim Dawson via the front desk.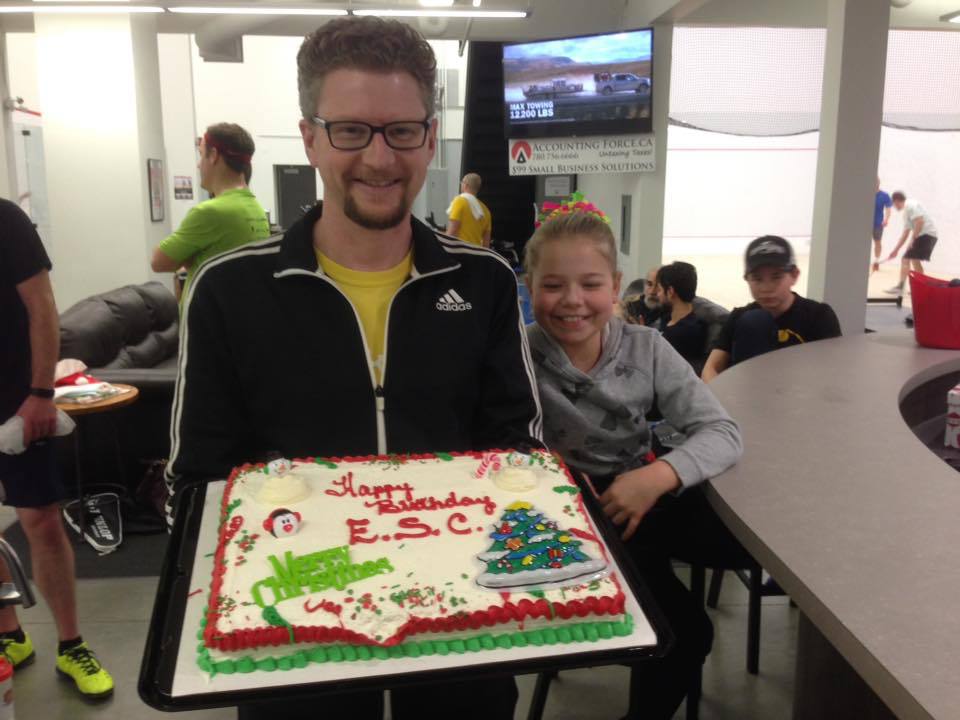 1-Year Anniversary Party
December 23rd marked our 1st full year of operation. Thanks to everyone who came out for the celebrations. We gave out a number of door prizes and took a moment to appreciate what has been accomplished in that time. We're looking forward to what year 2 will bring!
Box League
Congratulations to our December Box League winners: Box 1 – Jeff Williams, Box 2 – Sean Peacock, Box 3 – Josh Pulfer, Box 4 – Keith Piquet, Box 5 – Kevin Smiley and Box 6 – Anchit Kishore. All winners have $20 credited to their club account. To see if there is any room in the January Box League or join the February Box League, contact the front desk.
---
PSA News
The Tournament of Champions at Grand Central Station in New York is starting this Thursday. This year Andrew Schnell of Calgary has grabbed the last spot in the men's draw https://www.instagram.com/p/BPDxnGyD6to/?taken-by=a_schnell91!
Squash Links
There will be prize money parity for the Men and Women at the 2017 British Open
http://squashmad.com/breaking-news/equal-prize-money-2017-british-open/
An interview with Julian Illington, 9 time US squash champ
https://www.pdxmonthly.com/articles/2016/12/20/the-country-s-most-illustrious-squash-player-lives-in-portland
Observations from the 2016 US Junior Open (did you know that Bill Belichick was a varsity squash player?)
http://www.serioussquash.com/2016/12/2016-us-junior-open.html
2016 PSA recap pt 1.
https://psaworldtour.com/news/view/4412/year-in-review-a-look-back-at-2016-part-one and pt 2 https://psaworldtour.com/news/view/4414/year-in-review-a-look-back-at-2016-part-two.
There's a new Ashaway string
http://framscorner.tumblr.com/post/154778564705/stringing-away-news-from-ashaway-supernick-zx