Interclub Finals
Today the Interclub season finals are taking place at the Royal Glenora Club. Come out and support all the ESC teams who are vying for the title in their divisions!
Edmonton Junior Event
Two weeks ago the Edmonton Squash club hosted the spring edition of the Edmonton Junior Squash Event organized by Julie Multamaki, and what a great time it was! A total of 46 juniors took part (19 ESC players and 25 RG players and a couple others from Red Deer and Spruce Grove), many of whom were participating in a competitive event for the first time. Congratulations to all the group champions Anna Hobart, Molli Hay, Ari Braun, Galal Elbarkouky, Arden Berry, Ridley Nickerson and Mohamed Elserafy. We are all looking forward to the next EJS event at the Royal Glenora in the fall (date TBD).
Thanks to the title sponsor, Chris Watt, from Acron Roofing Systems Inc. & Northern Operational Recycling (NOR), plus minor sponsors ESL, Jesters, Fort-in-View Golf Course, Canadian Western Bank, Dagmar Branding and the many Friends of Edmonton Junior Squash for their generous financial support of the event.
We'd also like to thank Heather Sanregret, Diana Shaw & Ibrahim Elserafy for stepping up and helping with the organisation of the event, as well as the other volunteers who ran the registration desk, the control/draw desk, refereed, distributed pizza & pop, and handed out prizes including Kathy Salloum, Cecelia Hay, Adrien and Caroline de Vries, Robyn Taylor, Gabby Morin, Akiyah Clements, Carolyn Binns, Lesley Jewitt, Jorge and Annie Quintero, Sumayr Sekhon, Aya Okamoto, Andrew Linklater, Doug Kirillo and Daylene and Maddie Lauman.
ESC Club Championships
Next weekend our ESC club championships will be taking place Thursday and Friday evening and Saturday for most of the day, so keep in mind that court bookings will be limited for those three days. Registration is still open until Monday, May 2nd at 6 PM.
ESC member tournament success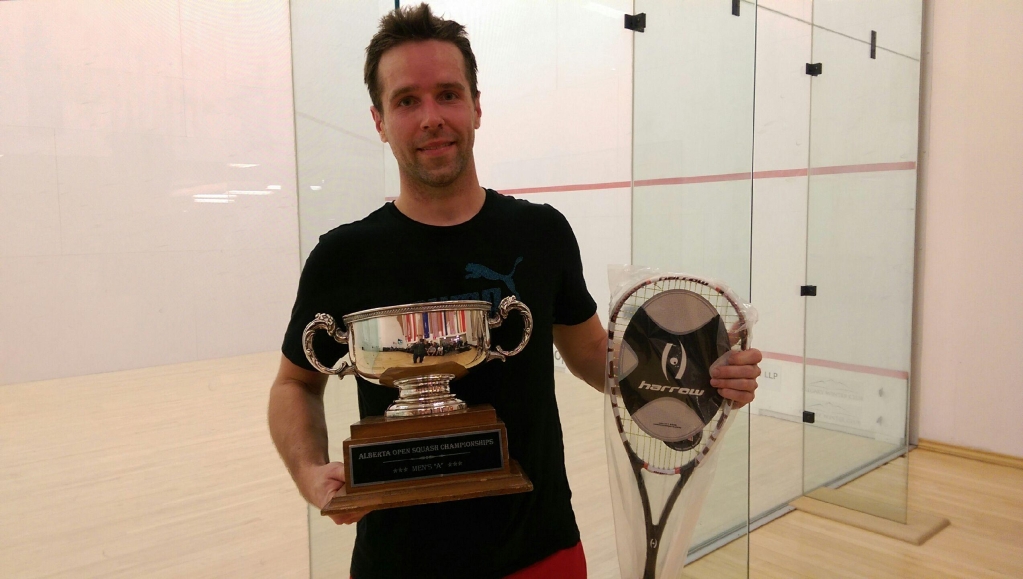 Congratulations to Justin Anderson for his recent win at the Calgary Open, Men's A division, beating the #3 ranked player in Saskatchewan in the finals. Well done!
Quick Links
Peter Nicols talks about movement to the front of the court
https://squashskills.com/blog/-/movement-to-the-front-of-the-court-in-squash-196/
A group is attempting to start a squash not-for-profit in Terrace, BC
http://www.terracestandard.com/sports/375959911.html
BBC interview with Nicol David and Maria Toorpakai
http://www.bbc.co.uk/programmes/p03qndpj
Interview with Omar Mossad
http://www.dailynewsegypt.com/2016/04/20/el-gouna-squash-international-interview-with-egyptian-squash-champion-omar-mosaad/
Canada's high performance squash newsletter is out, including some information on the NSA's recent closure. On the bright side, Toronto will soon have a new 7 court facility near the CNE grounds in Toronto.
http://squashontario.com/wp-content/uploads/2016/04/Reverse-Angle-12th-issue-April-2016.pdf
Ramy Ashour talks about his hamstring woes
https://psaworldtour.com/news/view/3556/ashour-opens-up-about-hamstring-problems
A great behind the scenes video at the scene of the upcoming World Series Final in Dubai
https://vimeo.com/164117448
A look back on Jonah Barrington to celebrate his 75th birthday
https://psaworldtour.com/news/view/3590/barrington-the-prophet-revived