Club News
Last weekend we had a fantastic Men's tournament with over 70 guys battling it out over three days. In the end, Jorge Quintero won the Open Men's division against our very own club-pro Ibrahim Elserafy. Other division winners included Chris Cullingham, David Cheung, James Cassano and Sameer Jadavji. Congratulations to all that took part, and also special thanks to Caroline and John de Vries for not only getting the beer taps online in time, but also putting in a monstrous number of hours to make sure everything went smoothly. Thanks also Marc Willacy, Jim Orchard, Tony Brierley, Evan Watson, Ryan Black, Kathy Salloum, Caroline Kirillo and Claire Abele who volunteered checking people in, keeping the court schedule up and helping out with the food and beverage service.
We continue to make additions to the club. Many of you may have noticed five new spin bikes for warming up behind the courts, and a number of yoga mats for our red fitness room in the front. We expect to be bringing in more exercise equipment in the near future.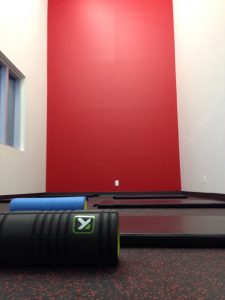 The men at the club will also notice a giant TV in the change room. That was generously donated to us by one of our members, Vince Andrusiak. Thank you Vince! If any of you have any soft-cover easy-clean furniture that you are looking to get out of your house, then please let us know, as we are looking to add a few pieces.
Next Wednesday, February 3 there will be fire alarm and sprinkler system testing between 10am and 2pm, so don't be alarmed and call 911 if the fire alarm goes off. Unless you see fire – then you should definitely call 911 and get the heck out of there.
Soon we will be adding a security code to the alarm panel for members to use if they are the first person to enter or last to leave during unstaffed hours. Brad Prince from Liberty security (and also an ESC member) has made a helpful video to outline all the procedures. You will be receiving the disarm code from our club management email system prior to us implementing this, so watch your inboxes for this important message.
Thursday February 4th to Sunday February 7th we will be hosting the 23rd annual Women's Weekend Squash Event. To accommodate all the players, the men's change room will be made available to the women, so please be advised that there will be no access to the change rooms for the guys for much of the weekend. There is still a need for volunteers for women's weekend, so if you can help out please email me @ jeff.williams@edmontonsquashclub.ca.
Also, I would like to remind you that we will be hosting a high-level women's squash exhibition Sunday February 7th at 3PM featuring Nour El Sherbini and Victoria Lust. Both are coming off big tournament wins subsequent to their accepting our invitation, so PSA players should be aware that ESC exhibition karma is running pretty high! For ticket information please email info@edmontonsquashclub.ca or ibrahim.elserafy@edmontonsquashclub.ca. Tickets are selling out quickly so don't miss your chance to watch these top players!
And in case you missed it, we were featured in this week's issue of the Edmonton Examiner in a piece written by Madeleine Cummings about our PlaySight installation. Also, Ibrahim put together a nice video full of well-wishes for the ESC from the top PSA stars at this year's Tournament of Champions.
Squash News
World #21 Victoria Lust (ENG) won The 25k Slaight Music and Roundtable Capital Granite Open at the Granite Club (https://www.graniteclub.com/) against world #28 Nicolette Fernandes (GUY). A replay can be found here: http://www.squashsite.co.uk/2009/granite2016.htm. We can't wait to see Victoria in person February 7th!
At the same time, the men were contesting the 75k Motor City Open in Detroit at the Birmingham Athletic Club where surprise finalist world #22 Ali Farag (EGY) played the best squash of his young career to defeat world #3 Nick Matthew (ENG), capping a week where he upset both world #1 Mohamed El Shorbagy (EGY) and world #9 Mathieu Castagnet (FRA).
On the secondary tour, Albertan Danielle Letourneau of Calgary won her first ever PSA event at the 5k Liberty Bell Open at the Berwyn Squash and Fitness Club in Berwin, PA. She looks to keep her streak going in the Winnipeg Winter Club Women's Open at the Winnipeg Winter Club. You can follow the action live on their ustream video feed.
In Medicine Hat world #57 Shawn Delierre (CAN) of Montreal came up just short against world #55 Ben Coleman (ENG) in the 10k Holtrand Open held at the downtown YMCA in Medicine Hat. Although he lost 3-0, in true Delierre fashion the final lasted over two hours. Both men will be competing this weekend in the 10k Banker's Hall Pro-Am at the Banker's Hall Club in Calgary.
And while we're on the topic of the PSA, here are a couple of links where we hear what the PSA head of refereeing Lee Drew and others are emphasizing when they are making their decisions. Part 1. Part 2 . Rami Ashour has made some of his thoughts about refereeing public recently as well.