Club News
Karim Abdel Gawad – Gregory Gaultier Exhibition Recap
On February 11th our club had the unique  privilege of hosting the 2016 World Champion and current world #2 Karim Abdel Gawad and the 2015 World Champion and current world #3 Gregory Gaultier. The evening started out with a presentation by Dr. Nadr Johma summarizing his research in tandem with Dr. Samer Adeeb on the correlation between court movement and improved squash performance. The audience was then treated to a couple of entertaining matches between top juniors Molli Hay (Edmonton) and Amelia Knapp (Calgary) and Seif Elfiky (Calgary) and Abdel Elbayoumy (Edmonton). A number of juniors, as well as four randomly selected ticket holders also got a chance to play King of the Court with Karim and Gregory before the main event where Karim managed to defeat Greg 3-1. Finally, Jeff and Ibrahim played double against them complete with Ibrahim doing pushups for serving out and Jeff giving Greg a taste of his hip checking prowess. Global News was even kind enough to come out and tape a short feature about the exhibition. All-in-all an incredible evening of science, squash and entertainment.
Thank you to Ibrahim Elserafy for organizing the event as well as all the other volunteers who helped out.
Alberta Mixed Doubles Championship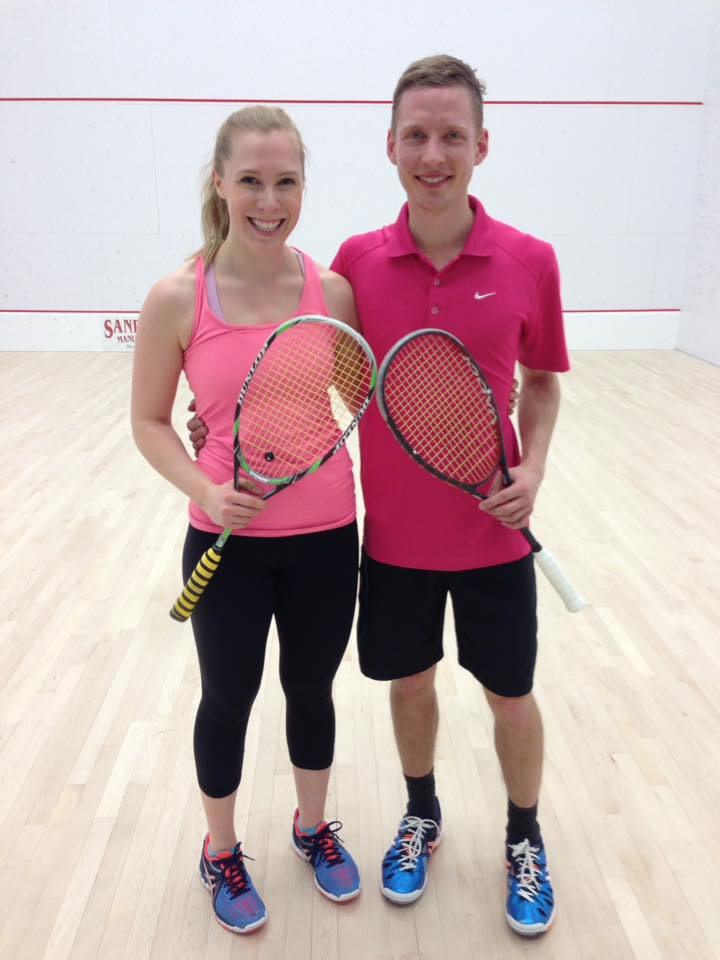 We hosted the Alberta Mixed Doubles Championship February 10th-12th. Congratulations to Kensy Balch and Andrew Linklater who won the Open division, Perry Wynn and Karen Marner who won the Mixed B event. Thanks to all the teams that participated.
University of Alberta Tournament
The University of Alberta held their annual no-frills event and the Edmonton Squash Club was well represented with 32 members participating. On the men's side, club pro Ibrahim Elserafy was the runner up in the Open division. Brad Prince was the men's A champion with Matt Zillinski coming runner-up. Yves Richard was the Men's B champion winning against Duncan Lee in the final. Ross Vickery won the Men's E division. On the Women's side, Angel Yu finished 2nd in the Women's D division and Sandra Gawad was the runner-up in the Women's E division. Well done all!
Upcoming Events
Box League
Congratulations to our February Box League winners: Box 1 Jeff Williams– Box 2 – Ryan Black, Box 3 – Jon Shalapay , Box 4 – Alvaro Rodriguez Casafranca , Box 5 – Marthinus Strydom, Box 6 – Martin Huard, Box 7- Mark Beaton Box 8- Jared Cameron and Box 9 Chris Turtle. All winners have $20 credited to their club account. We have 50 participants in the March box league. Sign up for the April Box league here
Learn to Play Squash
If you know anyone who's thinking about picking up the racquet but don't know how to get started… This is the program for them! Make sure they know about this great program that teaches the basics of the game. After this program you'll understand the proper techniques, etiquette, rules and format of a squash match. Everyone should take this program if getting into Squash.
Dates: March 27 – May 1 (6 Weeks on Monday nights)
Time: 6:45pm-8:15pm
Cost: $75 + GST
Summer League
The Edmonton Squash Club Summer Leagues are the most popular Summer Leagues in the city. Make sure you sign up quickly for this 10 week team league on Tuesday or Thursday evenings or register or both! Because our Summer League is so popular we offer two different evenings (Tuesday or Thursday). There will be two groups of teams playing each evening. So one week you & your team will be playing 6pm-8pm and then 8pm-10pm the following week. Players and teams will be ranked based on players Interclub level & position. All participants register as individuals and then teams are put together based on level of play. All levels of players are welcome and encouraged to register.
Dates (Tuesday Session): May 9th – July 11th
Dates (Thursday Session): May 11th – July 13th
Times: 6pm-8pm and 8pm-10pm
ESC Member Cost: $100 + GST
Non-Member Cost: $200 + GST
Club Championships
April 27th – 30th, 2017
The ESC Club Championships is a great tournament to wind up the regular squash season. All levels of players are encouraged to enter! We are trying to keep the cost down to get a big number of people participating! So make sure you sign up!
2016 Champions:
Men's Open/A Champion: Ibrahim Elserafy
Women's Open/A Champion: Beth Marple
Men's B Champion: Doug Kirillo
Men's C Champion: Rob Music
Entry Deadline – Sunday April 23rd @ 6pm.
Categories Available:
Men's – Open, A, B, C, D, E
Women's – Open, A, B, C, D, E
Categories may be joined if necessary
Must be a member of the Edmonton Squash Club
Cost: $30.00 + GST
Included:
– Guaranteed 3 matches
Friday night munchies
Saturday Continental breakfast
Prizes for Division Winners
To Register contact the Front desk of the ESC or Jeff Williams.
Tips from the front desk
Members have access to an online portal for court bookings. In this video, Anne walks us through the process for booking, how to book two consecutive court times during off peak times, how to tell what the peak times are, and what happens when you book with a guest who is not a member of the club.
Squash Links
Mohamed El Shorbagy has topped the men's rankings for over a year, but there could be a shakeup at the upcoming British Open. Mike Hegardy goes over the possibilities.
http://squashmad.com/breaking-news/rankings-rumble-put-karim-abdel-gawad-number-one/
Popular Malaysian Pro Low Wee Wern talks about how she got into squash and her current injury saga.
http://www.fourthofficial.com/2017/42906/wee-wern-opens-up-about-squash-career-dealing-with-injuries-and-battling-sexism/
Interactive Squash is partnering with ASB to offer a 4 camera squash video product.
http://interactivesquash.com/video-tracking/
Erin Roberts from Calgary won the Women's Open 2017 Harrow Canadian University and College Championships
http://squash.ca/en/news/two-new-champions-crowned
Samantha Cornett of Ottawa is the PSA Women's Tour Player of the month
https://psaworldtour.com/news/view/4570/elshorbagy-and-cornett-are-february-psa-players-of-the-month
An essay on making your opponent work harder than you so that even if you lose the battle (point), hopefully you will win the war (match)
http://www.serioussquash.com/2017/02/lose-battle-win-war.html
The life of Maria Toorpakai, a young woman from the tribal areas of Pakistan and champion squash player is featured in the documentary Girl Unbound which was released at the Toronto International Film Festival in September 2016.   No information yet on a wider release but judging by the following trailer it could be of interest to anyone fascinated by the transformative power of sport.
https://www.youtube.com/watch?v=i_BFUMoDjRM