We'd like to bring an important event to your attention founded and run by ESC member Rob Deltombe.
When Rob was in undergrad at the UofA his grandmother passed away from a brain tumour and he made a promise that he would raise $1 million for cancer research in his lifetime. He started shovelling driveways and doing hole-in-one fundraisers before moving to the US for chiropractic college. When he graduated and moved back to Edmonton he decided that he needed to start fundraising again and came up with the idea of starting a mud run obstacle course. Six years later he has raised nearly $250,000 raised towards his million dollar goal.
This year's race is August 18th at Sunridge Ski Area in NE Edmonton and registration is only $50. Registration gets you entry into the race, a timing chip, a race medal and a t-shirt. Anyone who fundraises a minimum of $100 will also get free lunch, beverage and entry into all of the prize draws. 11 to 15-year-olds can race with a guardian, and they have a kids course for toddlers to ten-year-olds which is by donation.
There will be a beer garden and DJ, lots of muddy fun, and a whole pile of cash raised for a great cause. If you don't want to race you can come and spectate, with a shuttle for spectators to ride up and down the hill. They are also always in need of sponsors, and volunteers to help with set up, day jobs, and take down. Even something as little as a facebook like or twitter follow goes a long way to help promote the event.
For more information, please visit or follow them at:
Web: https://albertacancer.ca/downanddirty
Twitter: www.twitter.com/downdirtyrace
Facebook: www.facebook.com/downdirtyrace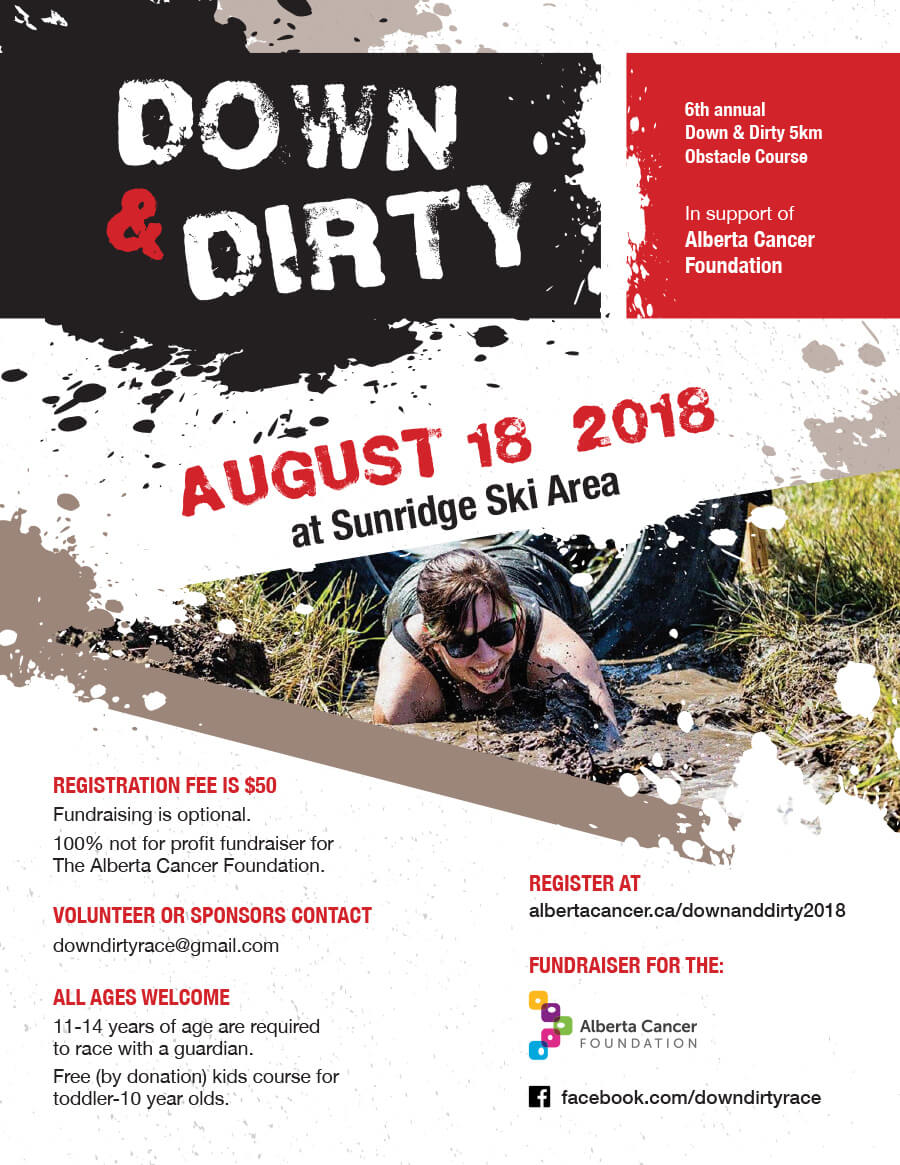 Are you are a member of the ESC who has a passion for a local cause, fundraiser or non-profit? Let us know and we'll feature you on our site.
Do you have a for-profit business you'd like us to feature? Maybe a sponsorship is a good fit for you. Check out our offerings at https://edmontonsquashclub.ca/sponsors/