Congratulations to the Fat & Furious who repeated as the Edmonton Squash League Level 2 interclub champions. It was a tight match against We'd Hit That from the William Lutsky Y in a repeat of their 2017 semi-final confrontation.
Down two matches to one, the Fat & Furious were on the ropes with Greg MacPhail trailing 2-1 in games in the final match. Greg came back to win his two finals games 11-9, 11-7 though, leaving the overall Interclub score tied at 10-10. The teams then huddled over their scoresheets with their abacuses to do a total points countback, with the final tally going 144-142 in favour of Fat & Furious, handing them their second consecutive title.
Well done Ross Yaremko, Greg MacPhail, Josh Pulfer, AJ Pederson, Alan Ditschun and Martin Vyrdra on their triumphant 2017-2018 campaign, and good luck going for the three-peat next year!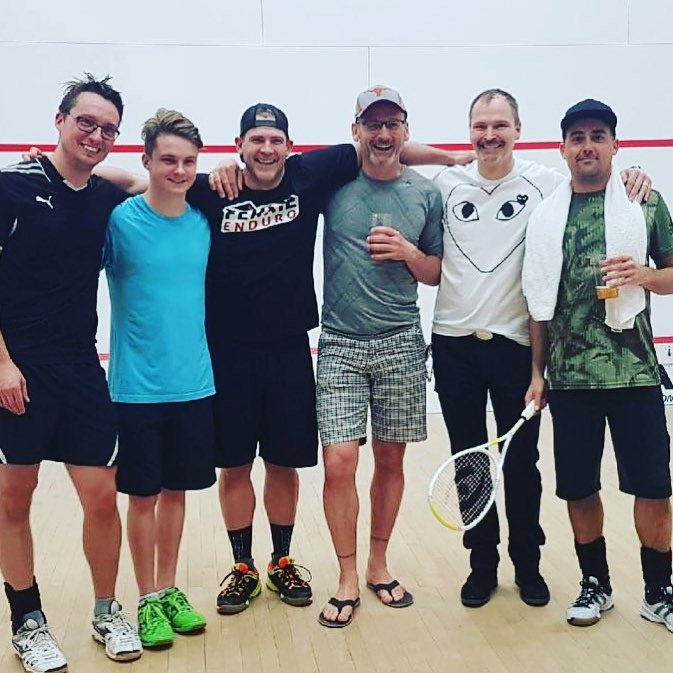 Congratulations also to Julie Multamaki who won the 2017-2018 Women's Level 1 Individual Championship for the second consecutive year in a playoff with the top four women from Pool A play. Next up on Julie's list will be the Canadian National Championships age group title. Good luck Julie!