Refereeing squash is very difficult because there are so many grey areas. Although there are clearly defined rules (You can find the current squash rules here), there are so many situations where people disagree on the right call. Here's a quote from the crew at PSA Live in answer to an audience question about refereeing.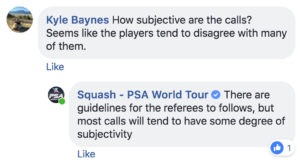 Over the past month, Squashskills has been putting out several great videos series about refereeing with some great tips from Lee Drew, the Refereeing Director for the PSA and a team England coach. Here is a summary of his framework for approaching refereeing decisions:
Sometimes there are grey areas for situations where you could have three people with good explanations for a no-let, yes-let or stroke, so as a referee you want to be able to give a clear explanation of your reasoning to so the players will have an understanding as to how the game is being called.
As a player, especially in a recreational environment with volunteer referees, it's important to listen to the referee's rationale, and even if you disagree with it, just carry on and then talk over their reasoning in a calmer environment over some refreshments after the match.
As a referee, it's important to read the game well and spot if someone is trying to take a line to cause some contact when under pressure to get a cheap let, or if someone is deliberately standing back up into the other player's line. This reading of intentions can play into how a situation is called.
There are also big differences in how to call plays at difference levels of play to balance safety and an expectation to play the ball. A PSA player is much more in control of their swing, their control of the ball and their movement, so there is a higher expectation of playing through minor interference. With more inexperienced players you would be much more lenient in allowing lets to reduce the risk of injury.
At the end of the day, the concept of a "Fair Outcome of the Rally" is hard to explain in the rules, but might be the most important part of how the game is officiated. Especially in the case of self-refereed games, if there is any doubt between the two players then often the fair outcome of a contested rally is just to play a let and move on. As Lee says in this video series, a good rule to live by is "when in doubt, play a let"
Do you want to brush up on your refereeing skills? The Edmonton Squash League is hosting a referee clinic at the Royal Glenora Club on Thursday Nov 29th from 6:30-8:00pm, followed by an exhibition match between RG Pro Pete Goodings and ESC Pro Ibrahim Elserafy. This is open to all league players as part of your ESL Registration fee.
The Referee Clinic will be run by local player and referee Curtis Gillespie who is a National Referee and has officiated at several Professional events.  The clinic will go over the rules of the game, calling interference (lets and strokes), the role and responsibilities of the scorekeeper and referee in a match.  It will also cover handling difficult players, codes of conduct on court and some tips for referees to keep matches under control and minimize unsportsmanlike behaviour.
This clinic is highly recommended for all levels of players in the league.  All players are required to referee league matches, so this clinic will help you to brush up on the rules and more importantly give some much-needed insight into calling interference on the court.  We've all had those times where we were unsure of the right call, so bring your questions with you!