Edmonton Junior Squash Event #11
February 24 @ 8:00 am

-

4:00 pm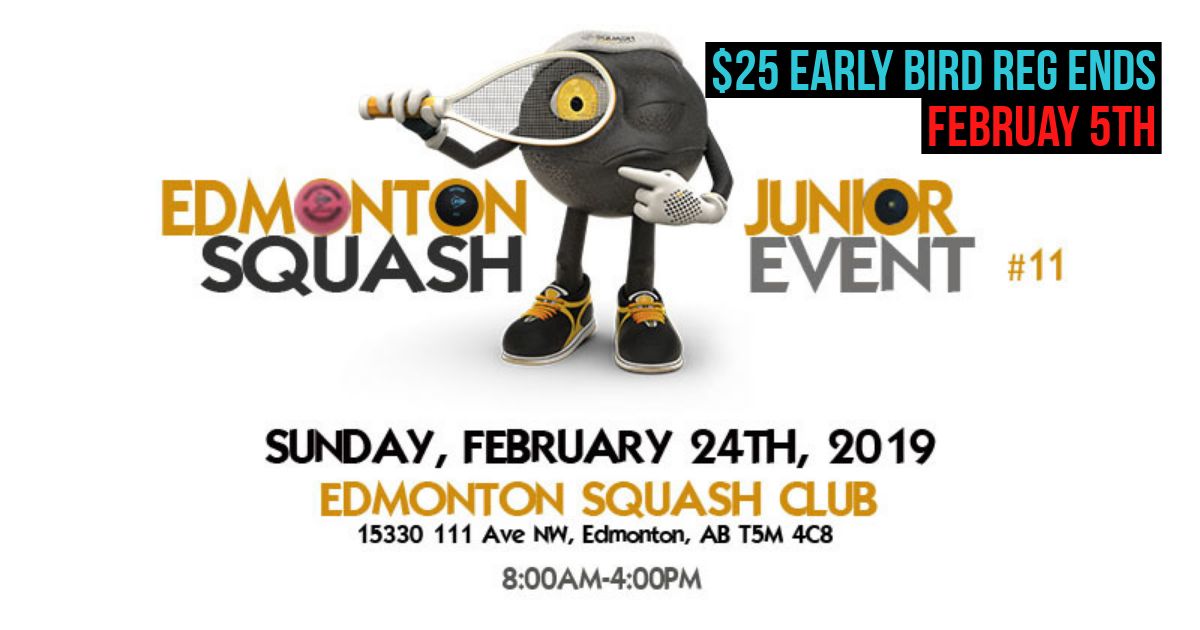 ***Update February 21***
The draw is now available online. Please visit https://drive.google.com/file/d/1xK5nHPkBb3UMUW_QyFa6_YkwViPSn_Vo/view?usp=sharing
*************************
The ever-popular Edmonton Junior Squash Event #11 will take place on Sunday, February 24th, 2019 from 8am-4pm. (depending on entry numbers the event could finish earlier than 4 pm, so please indicate if this will be an issue, on your online entry under "Time Conflicts"). You will need to register each child in your family individually. Registration is limited to 64 entries.
As per previous ESJE events we are hoping to attract approx. 50-60 junior players – targeting kids that are currently in junior programs (or have previously been in junior programs), and those children that hit the ball recreationally with their parents at other facilities and/or just enjoy playing squash.
This event is open all levels of players aged 6-18 years.
We are happy to have "Beginner" kids and teenagers attend. And we will also accept 5-year olds provided that they can hit the Dunlop mini-squash nerf ball to themselves continuously more than 6 times; plus, also be able to rally with another child of similar age and ability; understand and/or be prepared to learn the basic rules of squash, and most importantly be aware of the safety issues in squash so that their swing is not a danger to other players.
Registration can be done via the Google Form link below.
Link to google forms registration: https://goo.gl/forms/L8OC78M9uNiW7d5Y2
EVERYONE MUST REGISTER ONLINE (ON VIA THE LINK ABOVE) AND PAY BY E-TRANSFER.
NO OTHER METHODS OF ENTRY OR PAYMENT WILL BE ACCEPTED.
.
EJSE#11 Cost: The early bird cost of the event is $25 per child (must be registered on/before Feb 5, 2019, and payment must be received no later than Feb 5, 2019).
Late registration is $35 per player for entries received between Feb 6-18, 2019. All players will receive a grab bag, pizza for lunch and pop/juice, 3 matches, and every player will go home with a prize.
Playing Levels: Prior to the event, Julie will discuss playing levels (and appropriate squash balls for their match play level) with the various coaches, and then place players in divisions based on their ability level. As a result, some divisions may be mixed (boys and girls in the same division) and some may be single-sex divisions.
Draws & Scoring: Draws will be round robins and each child will be guaranteed 3 matches. For most divisions, scoring will be PARS to 11 points, and matches will be "Best of 3 games".
Refereeing and Marking: Every child will be required to referee and/or mark immediately after each match that they play. For the younger and beginner players, we will have adults there to help them with the lets & stroke calls, and/or supervise them with this task of marking the score on the scoresheet. It is expected that by the end of the event, that each child will learn to call out the ongoing game score (to the players on the court); and/or to be able to write the scores down on the scoresheet, as the match ensues.
Equipment: Eyeguards are mandatory for all junior players, so should your child not have eyeguards or their own racquet please indicate that on their online entry, so that we can have them available for use at the clinic and at the event. There will be no additional charge to use the equipment.
Appropriate Squash Ball: Please be cognizant of checking-off the most appropriate squash ball for your child's ability level. If your younger, beginner child plays with a double-yellow dot with their adult parent, then most likely they will need to play with a different ball with another child. We want to make sure that the younger children are having lengthy rallies, rather than "one-shot wonder" rallies. It is not a crime to play with a modified ball! The more times your child hits the ball in a rally, the better they will get. If you have any questions about what ball your child should be using with other children, then please discuss this with your child's squash coach (or Julie) prior to completing the registration form.
Scheduling Conflicts: If your child is involved in another activity on the 24th that takes them away from the event for a few hours, but still wants to be involved in our event, then please discuss with me so that Julie can try to make the schedule work for them. As previously mentioned, that depending on the number of registrations the event may go past 4 pm. If this is an issue, please state this on the online entry, so that Julie is fully aware of all conflicts before she makes the draw.
Volunteers: Volunteers are needed to assist in running the event on February 24th, 2019.  If you or other family members can volunteer for one of our 3-hour shifts throughout the event, then please also let me know so that I can pass your name onto our volunteer coordinator.
Registration:
The early-bird registration deadline is: Tuesday, February 5th, 2019 at 5 pm. E-transfer payments must be received prior to 11:59 pm.
The late registration fee is $35 for any entry received after Feb 5th (provided that there is still space in the event).
Registrations will not be collected at the clubs.
Registration closes on Monday, February 18th, 2019 @ 5pm.
E-transfer payments must be sent to edmontonjrsquashevents@gmail.com .
You will receive confirmation of your online registration once it is submitted. Julie will personally confirm receipt of your etransfer.
EVERYONE MUST REGISTER ONLINE (ON VIA THE LINK ABOVE) AND PAY BY E-TRANSFER.
NO OTHER METHODS OF ENTRY OR PAYMENT WILL BE ACCEPTED
Draws: Draws will be released late evening on Wednesday, February 20th, 2019. As soon as draws are finished Julie will send them out to each registrant, and to the respective squash professionals.
Sponsorship: As always, we are looking for financial support for these great events. If your business is willing to donate any amount to help us out we would be greatly appreciated. Cheque payments can be made out to EWSS, 11243 – 125 St, Edmonton, T5M 0M6; or gift cards can be left with the squash pros at either RG or ESC. Please let Julie know if you are making any donations so that she can include your name on our Thank-You posters.
If you have any questions whatsoever, about the event, then please do not hesitate to contact Julie by email at edmontonjrsquashevents@gmail.com
Please feel free to pass this email along to other people who may have children interested in participating in this event.
We look forward to hearing from you and hope to see you supporting the Edmonton Junior Squash Event #11.
Related Events