Canadian Women's Team Championships
February 15, 2019 @ 8:00 am

-

February 17, 2019 @ 2:00 pm

Free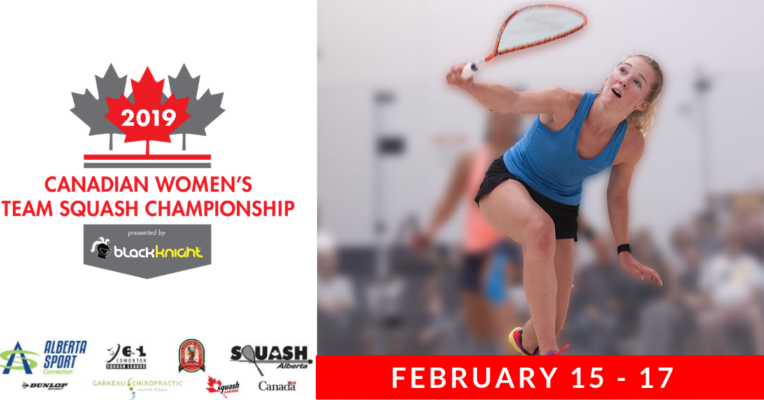 A fantastic event to celebrate top Canadian Women's Squash that's coming to the ESC.
The Canadian Women's Team Squash Championships at the ESC on February 15-17, 2019.  Each province provides their Top 3 women players to compete in a team-based competition.  The calibre of play is typically Women's PSA or high Women's Open players that come to compete for a prize purse of $4500 cdn.
Team Alberta is well represented with defending Canadian Women's National Champion Danielle Letourneau as well as Jamie Laird and Jackie Moss
Due to the incredible support of the Edmonton Squash Club

,

 admission in now by donation! 
What does this mean for you? 
How about a custom created charcuterie plate combined with some delicious cheeses and fruit all paired with some handpicked wines from around the world. Beer on tap and Craft can available too! Our Volunteer team has gone above and beyond to make this an experience you don't want to miss.
For a nominal recommended donation of $10, access to National Level Squash, all the yummy food, and yes even a beverage of your choice is provided. So come on down to the ESC, cheer on our Alberta Ladies, mingle with friends and enjoy your Friday night with us.   Juniors are welcome and encouraged to join in the FUN!
The schedule for the weekend will be the following:
Cheer on Alberta as they take on the Canadian Forces Team @ 4pm.
Matches continue until 6pm
Stay, mingle, nibble, sip and socialize with athletes and friends.  7:30 – 9:30
Keep the support strong for TEAM ALBERTA @ 10 am
Matches: 10am-2pm & 2pm-6pm
Tournament Participant Dinner @ 6pm (Players and invited guests only)
Final rounds!  Bring your best for the last rounds of the Tournament.
Matches: 10am-2pm
Medal Presentation immediately after matches are finished
Here is a list of the provinces participating and the players:
Team Alberta
Danielle Letourneau (PSA World Ranking 37) – Current Women's Canadian Champion
Jackie Moss
Jaime Laird
Team BC
Nicole Bunyan (PSA World Ranking 59)
Grace Thomas
Rachel Au
Team Canadian Armed Forces
Dominique Poulin
Courtney Whynot
Melissa Reyes
Team Manitoba
Alix Younger
Anika Alexander
Jordyn Lambert
Team Ontario
Sam Cornett (PSA World Ranking 34) – Canadian Women's Champion 2013, 2014, 2015
Hollie Naughton (PSA World Ranking 36) – Canadian Women's Champion 2016, 2017
Seanna Keating
Team Quebec
Runa Reta – Canadian Women's Champion 2009
Tara Newman
Sophie Joubarne
Team Saskatchewan
Jaycee Spagrud
Carla Dyck
Emily Bardutz
Volunteering
We will require a large number of volunteers to run this event. For more information, please visit this link: https://edmontonsquashclub.ca/2019-canadian-national-womens-team-championships-feb-15-17/
Further Information
Keep an eye on this page for further updates about the tournament.