2021 ESC Open – Registration Closing November 26 @ 10 PM
December 3, 2021 @ 5:00 pm

-

December 5, 2021 @ 4:00 pm

$50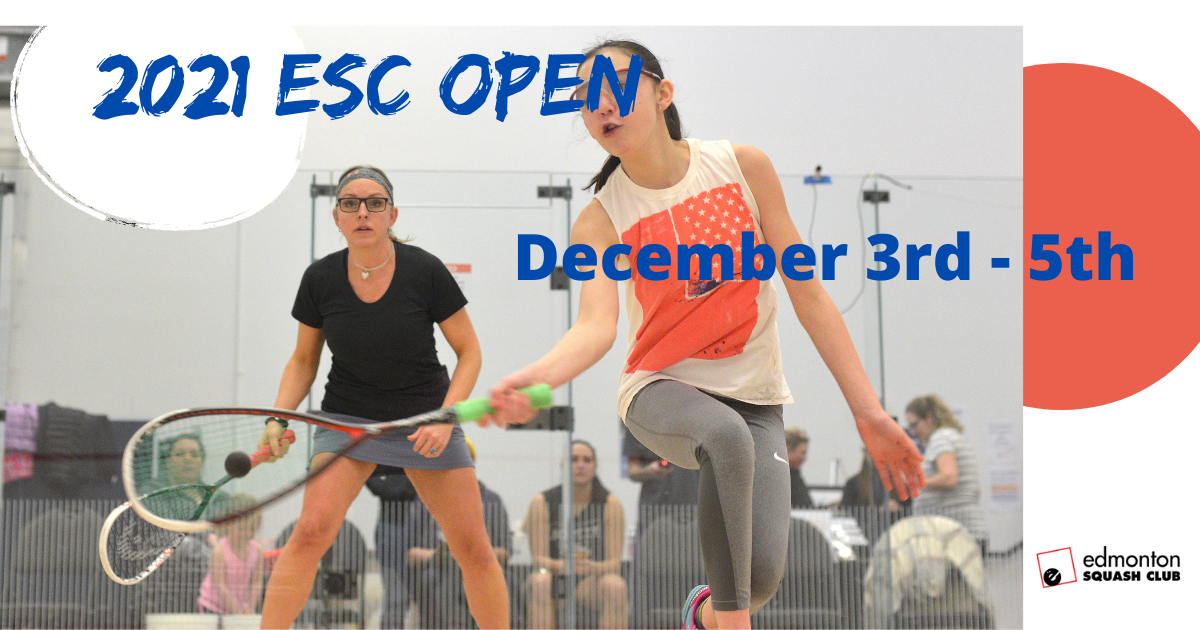 WELCOME TO THE 2021 ESC OPEN
All levels of players encouraged to enter! Dates: December 3-5, Entry Deadline: Friday, November 26 @ 10pm
Cost for Squash AB Members: $50 + GST Cost for non-members of Squash Alberta is $75 +GST
The tournament draw will be limited to the first 80 registrants, then you will be placed on a waitlist.
Division creation will be based on Squash Alberta Rankings as of the event registration close date. If you feel your ranking is not currently in line with your level of play or you are not a SA member and do not have a current SA ranking, please leave a note for the Tournament Director below in "Notes" providing current data ( ie. wins/loses against players you have been playing) and/or other information that will be helpful. Our goal is to ensure players are placed in the correct divisions so that the event is fun and competitive for everyone.
Guaranteed 3 matches
Prizes in each category for: Winner, Runner Up & Consolation Winner
COVID POLICY 2021 ESC OPEN
Effective October 25, 2021 we will be requiring proof-of-double vaccination to participate in the tournament.
A scan of your vaccine record or other suitable proof emailed to john@edmontonsquashclub.org will be accepted.
The club will not accept medical exemptions or a negative rapid antigen test or RT-PCR test (72 hours in advance)
You do not have to provide Proof of Vaccination if you are a member of the ESC and have provided proof of vaccine previously. All others entrants will need to provide proof of vaccine to Admin@edmontonsquashclub.ca.
Children under the age of 12 can access the club. Spectators are permitted with proof of double vaccine.